Dr. Karen Fields-Lever hails from Detroit, Michigan, graduating from the distinguished Catholic college preparatory school for young women – Mercy High School.  Dr. Fields-Lever completed her undergraduate education at Spelman College, with honors, receiving a Bachelors of Science in Biology Pre-Medicine.  Soon after receiving her bachelors, Dr. Fields-Lever attended Dental School at Howard University College of Dentistry; it is there that she earned her Doctorate of Dental Surgery.  She completed residency at Yale University in New Haven, Connecticut.   | Coleman Entertainment Group
According to the American Dental Association, in 2015 there were only nearly 200,000 dentists in the United States with women chipping in at 28.9%.  The number of African American women dentists is much lower.  Not saying there aren't more black women or even girls who would like to become dentists, it's just the way the numbers stack up for now…except for Dr. Karen Fields-Lever.
Dr. Karen is my new best friend! She's a black dentist with her own practice, 28 To Brush and she's clearing all those negative stereotypes about black women doctors.  The road to success wasn't easy, but yet she persevered and achieved what some may not have deemed possible.
I'm a HBCU grad, two times over, so I am HBCU for life even in our household, I'm in a constant bickering with my husband (laughs). My husband went to a PWI…he doesn't get it.  He will never understand. (laughs) I did my residency at Yale, which is a huge PWI.  Yale life was easy. They had something for everything. If you needed a special diet, they would come up with something for you in the cafeteria.  I missed my days at Yale because I was super spoiled, but at the same token, I value my HBCU experience the most. They taught me to live within my "Queendom."  My heart is always going to be HBCU.
Sorry, we went off on a tangent…
My love for dentistry came at Spellman, which my mentors turned me on to dentistry.  She said, "You know what, you said you want a family, you need to go ahead and think about dentistry.  My husband is a dentist and we love it."  That's kind of how I became a dentist.  Now was it easy… no. Not at all. Then I went on to Howard for dental and that was on another level.  It taught me so much.
After graduating from Howard University, Dr. Karen excelled further in pursuing her passion to become a dentist.  She was accepted into the prestigious Yale University and soon after began practicing dentistry.  In just a few short years later, Dr. Karen dived into her own practice.
After graduating from Howard University, Dr. Karen excelled further in pursuing her passion to become a dentist.  She was accepted into the prestigious Yale University and soon after began practicing dentistry.  In just a few short years later, Dr. Karen dived into her own practice.
Dr. Fields-Lever has practiced for the past nine years and recently celebrated her three-year anniversary for her own practice – 28 to BRUSH – located in Forest Park, Illinois.  The Practice experienced tremendous growth accumulating over 3,000 patients to date.  In 2016, she launched a mobile dentistry segment to the business providing oral health services on-site at community centers and schools.  This segment of her business now provides in-school services to over 16,000 students.  Dr. Fields-Lever is currently involved in the American Dental Association (ADA), Illinois Dental Society, Chicago Dental Society (CDS), the Academy of General Dentistry (AGD) and International Association of Orthodontics. | Coleman Entertainment Group
A community lover at heart, Dr. Karen took her practice a step further by providing dental care to inner city students.
You know, one of my colleagues at Howard, we reconnected here in Chicago, and she told me what she was doing was king of community-based…giving back to the children in Chicago. She said she goes into the schools and treat the children, clean their teeth, fillings, and dental educations. After she told me I thought, that's amazing and so I looked into it. I was like… I gotta do it. I'm originally from Detroit, but I was like I gotta give back to my city. I'm a city girl and I gotta give back. If I can't get back to Detroit to give back, I need to at least give back here in Chicago. So we looked into it, me and my husband, and it's just amazing. We thought, we should put together a team, buy equipment that rolls and go out to these schools. We thought we could do something similar to what she was doing, maybe go to different schools, because Chicago is HUGE. This year we got 36 schools.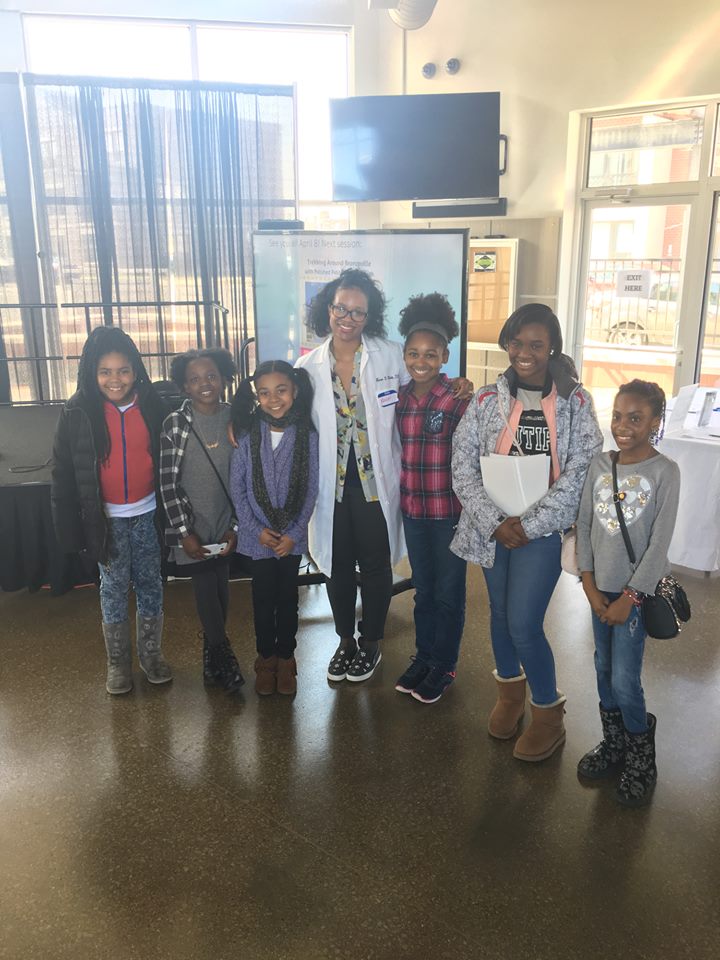 I told you she's awesome right?  Community service is especially important to her as she understands her role as a positive influencer in her own community. So now, Dr. Karen has her own practice with one set of professionals and then another set of professionals to run her mobile dentistry business.
Yeah we go in.  We go into some schools on the west side and the south side and we're just providing dentistry.  A lot of the kids have never even seen a dentist. So when I come in, it's like, "you're a doctor, you're black, and you're a girl?" They love it. I always leave rewarded.  We're there all day and I probably get the question of how many years in school all the time.  It took 9 years, but it's not a lot, the years fly by.
The influence that she has over these children are beyond words.  It reinforces the things their teachers are saying about staying in school.  It's one thing to hear it over and over, but it's another thing to see the results. Dr. Karen can see that example in her work by simply showing up, giving back, and sharing her journey with every child she cares for.  It's amazing.
To be an African American example… that's what I really love and on top of that I'm a female African American!
Like I said earlier, none of this is easy especially with a family.  Dr. Karen and her husband manages a thriving business in one of the largest metropolitan cities in the country all while parenting two adorable daughters.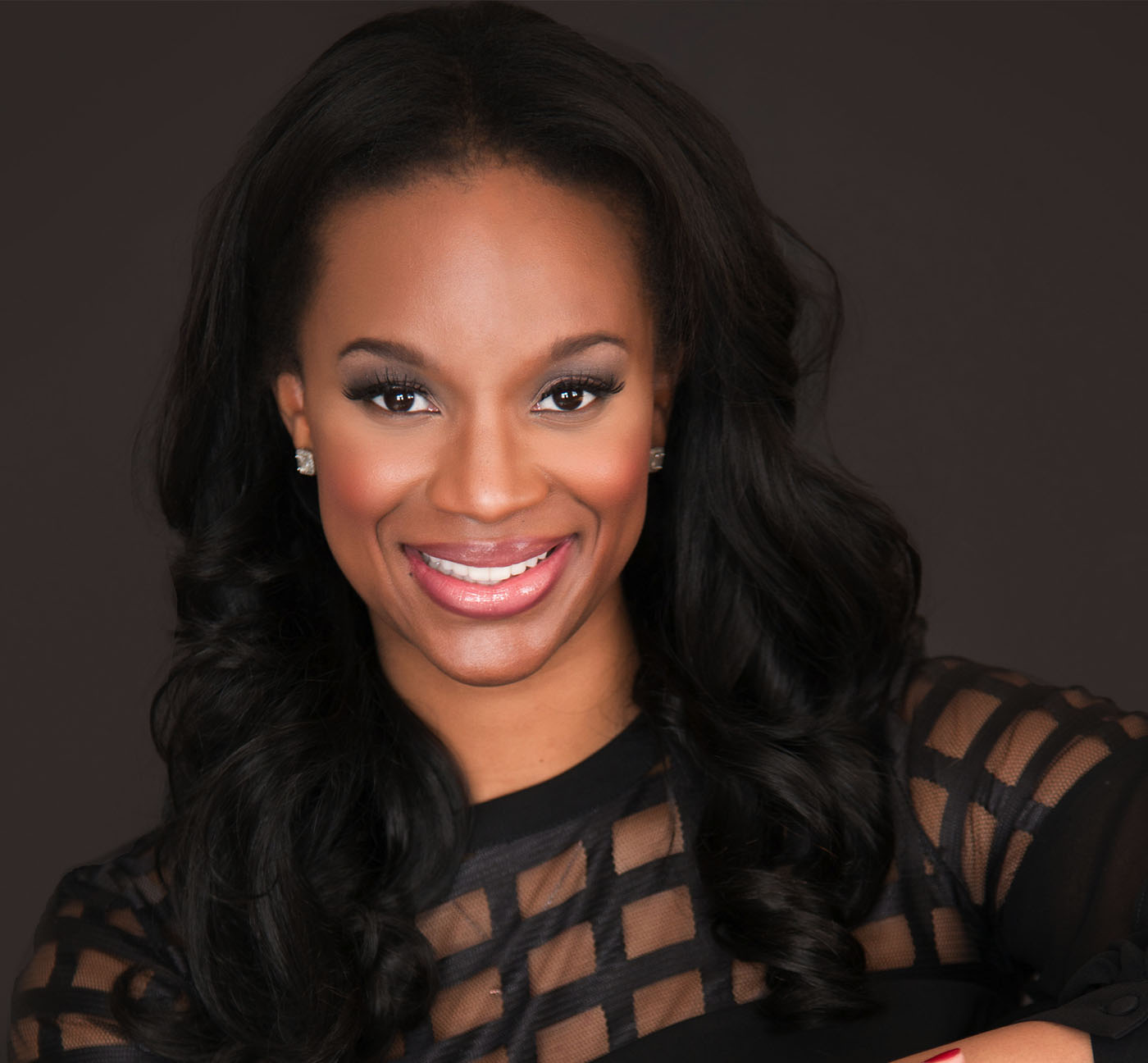 I really haven't figured it out.  I don't even know! By the grace of God, a little sprinkle of Jesus and maybe a glass of wine.  You know, taking some time to yourself. You can't do it all. Sometimes it's okay to step away… sometimes I'm like you take "number one" and "number two," I just need 30 minutes. (laughs)  You will go insane trying to balance out everything, you've got to take some time to yourself.
Regardless of her many accomplishments, including being named America's Best Dentist in 2016 by the National Consumer Advisory Board, Dr. Karen still face challenges with patients that prefer someone of a more fairer skin tone. (insert side eye)
I think you're still always learning even in your field. Thank God we're beings of learning. But I think the biggest challenge is not letting my color and "women-dom" get in the way while I practice.  Sometimes I'll get that non-African American patient coming in and they may need a lot of treatment and sometimes that can hinder me from just going in there and killing it.  They may not like me because I'm black, they may not like me because I am a woman.  Sometimes I think that before I go into a room.  So sometimes you get those… my staff would say, "you know they asked if you were black over the phone.  They saw your picture on the website and they were wondering if there was somebody else.  Oh yeah…
I won't share my advice, because it simply wasn't nice. (insert raised eyebrow)
Sometimes I think that can be a challenge. Even in today's society, a lot of people think that we're beyond that, but in the last couple of years I think we're kind of going in reverse.  I've noticed that thathas kind of been a challenge in these past three years. I have to not get so discouraged because I'm not the typical look or the typical idea that many people have when they see a dentist.  I am who I am.  I'm this girl from Detriot, I'm black and I may have natural hair one day when I come in to see you sir… when I'm doing your root canal… sir.
Even with the challenges, Dr. Karen treks onward in her mission and passion to give back and provide quality dental care.  Recently, Dr. Karen received the Chicago Scholar's 35 under 35 Leadership Award for "her business success and outstanding civic activity throughout Chicagoland."  Nothing is holding her back as she tells her truth through her journey walk and shares her God-given talents.
As cliche as it is, you can do whatever you want. You just cannot give up!  It's a lot of sacrifice, a lot of hard work, a lot of stepping stones… it's a lot.  I got some stories, I can tell some stories. It wasn't all glitz and glam.  Not at all.  Don't be afraid to ask for help.
Now Dr. Karen and her husband are discussing extending the number of schools receiving care from the mobile 28 To Brush.  I'm excited to see what else this amazing woman is going to accomplish.  In the meantime, if you're in the Chicago area, here's your new dentist!